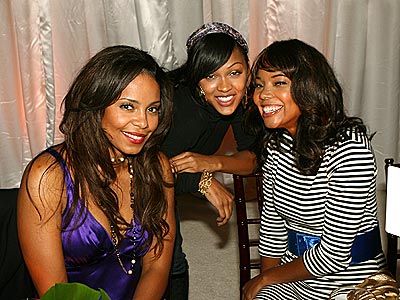 A movie that came out last month featured well known Estonian actress Mena Suvari as the lead character. The movie "Stuck" tells the story of a woman named Brandi who hits a homeless man with her car late one night, and is later is charged with his murder. The movie is based on the true story of a black woman named Chante Mallard who was convicted for the crime in 2001.
Suvari even has cornrows in the movie, giving her the look of being African-American even though they claim she portrays a "white trash" sort of character. Although she is a great actress- I do like some of her other work- I wonder why they couldn't cast a black actress to play the role accurately, instead of distorting the character into what Suvari will be playing?
Black actresses are constantly competing for the same roles, and now with white actresses being able to look more "ethnic", their chances of getting roles are diminishing.
Jezebel.com
features an article about the Suvari movie, and explores the unfortunate possibility of Black actresses becoming even more overlooked.
Ever since they have been allowed to act in movies, Black women have only been given roles as "mammies"- playing nannies to white children, cooks, and housekeepers, or "jezebels"- the seductive love interest, prostitute, or neighborhood man-stealer in every movie.
Nowadays, those two roles have been only a little bit broadened. Black women play secretaries and assistants (Wanda Sykes, Loretta Divine), or the typical Black family women in Tyler Perry-type Black movies (Angela Basset, Gabrielle Union, Nia Long, Kimberly Elise, etc). Often times Black women will be given the shot at action movies (Jada Pinkett-Smith, Halle Berry, Sanaa Lathan, Keri Washington, Gabrielle Union) but those only come after huge recognition and success of previous movies, or after suggestions of who would look good next to the successful Black men that star in them (Will Smith, Denzel Washington, Jamie Foxx).
It comes as no surprise that Black actresses are unhappy. In
Essence's December 2007
issue, there's an article interview with Sanaa Lathan, Gabrielle Union and Nia Long about this topic. Union said, "I could make a living doing Black urban romantic comedies for the rest of my life…. But am I growing as an artist?" The personal accomplishment is not there for most of these ladies. They are not being paid fairly, and their years and years of acting is not reflected in their recognition.
Gabrielle Union also raised an interesting point in saying, "… they'll complain on the blogs that we don't have enough black stars. Well, you rip us to shreds every two seconds from our nose to the weave to the clothes to the shoes to the ashy ankles."
Instead of supporting the few talented ladies that we have, the black community often resorts to criticism of how they are portrayed. Do we forget that the make-up and hair artists for these movies are white? The directors are white, the camera men are white, the lighting crew, publicists, clothing designers, casting directors, and everybody else that works on a movie….usually white. How can we expect them to completely and accurately reflect Black life?
Black culture in Hollywood only comes through what we see on the screen, and read in the pages. As an aspiring actress, I wonder what place in the line of Black actresses I will eventually get to with conditions like these. All of these ladies, especially my favorite actress Sanaa Lathan, have reason to complain about their roles. We as the Black audience and general public have to take notice, and be upset enough to try to change things and steer us in a direction where Black actresses are not overlooked and chosen second to somewhat "ethnic" looking white women.