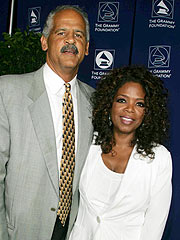 The National Enquire, MSNBC and other media outlets are reporting that mega mogul Oprah Winfrey is not leaving any of her $2 billion dollar fortune to long-time boyfriend Stedman Graham. Instead, Winfrey has left the funds to the three adopted children, whom she has yet to adopt. She also mentions several charities that are set to recieve donations upon her passing.
Winfrey mentions that she wants to adopt the children and raise them on her own, and doesn't mention Stedman helping her to do that. Some question Winfrey's age and whether or not a woman in her 50s should adopt 3 young children and try to raise them alone.
Stedman has amassed a small fortune of his own from writing and speaking. Oprah leaving Stedman out of her will has fueled speculation that their long relationship may be in jeopardy.