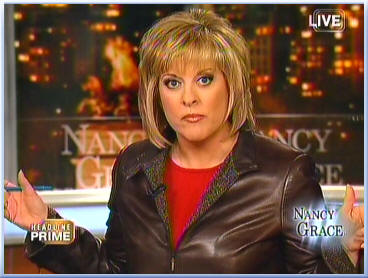 by Genma Holmes, YourBlackWorld

In today's world, many individuals can deliver the news. News anchors, reporters, journalists, bloggers and talent disguised as cable hosts and then there is Nancy Grace. Nancy Grace is in a genre by herself. She is the only person on television that covers missing kids with some facts and any rumor that can be found on the streets. I am convinced that CNN's Nancy Grace is obsessed with Caylee Anthony and needs psychiatric counseling immediately. With little objectivity and even less professionalism, Nancy conducts interviews equivalent to face offs. Nancy Grace, a former prosecutor, makes me wonder if she believes she can bypass the courts and send anyone straight to jail via her TV show.

Nancy Grace has a special way of making you hate to watch her and hate to miss the next show. Since July, her acid tongue has been fixated on the Anthony family complete with swirling pictures and videos on the TV screen. As a self professed news junkie, I can watch any show on any network with an open mind. But I can only watch Nancy Grace in short intervals. Nancy has become as creepy as a pedophile showing the pictures of Caylee throughout her show. Speaking of perverts, she closes the show to Michael Jackson's song "Gone Too Soon". The irony of that is too long to discuss in this posting. I often find myself begging my TV screen to show a child of color missing as if it would answer back.